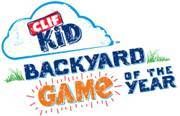 CLIF Kid, maker of organic snacks for active kids, introduced today the Backyard Game of the Year Contest. The contest aims to encourage kids ages 6-12 to use their imagination and reconnect with outdoor playtime -- right in their backyard. Kids and their parents can enter for a chance to win a $10,000 scholarship plus a Trek bicycle and Bell helmet.
Three-time U.S. Olympic soccer medalist and mom Julie Foudy will serve as Official Team Captain for the contest and host the Backyard Game of the Year Playoffs. Five finalists and their families will have a chance to meet her as they play their games together.
According to the journal Contemporary Issues in Early Childhood, only one quarter of kids play outside today as compared to nearly three quarters a generation ago. A study of 2,200 moms commissioned by internet security company AVG found that more young children know how to play a computer game than swim or ride a bike.
Backyard game ideas can be submitted today through June 30, 2011 at
www.CLIFKidBackyardGame.com
.
A panel of play experts will select five finalists, and those kids will be flown with one parent each to New York City to compete in the
CLIF Kid Backyard Game of the Year
Playoffs in late August 2011. Each finalist will receive a Trek bicycle and a Bell helmet, the four runners-up will each win a $1,000 scholarship and the winner will receive a $10,000 scholarship.
Contest entries must allow at least two kids to play together and can utilize common household items such as balls, hula hoops, beanbags and, most importantly, kids' imagination for hours of fun.
The winning game will be reproduced and donated to Children & Nature Network, a non-profit organization working to reconnect kids with nature. Please visit
www.childrenandnature.org
for more information.