Chocolate Milk is a product that I purchase for my boys all the time.... they are HUGE milk drinkers (regular or chocolate). With 3 growing boys I am always on the look out for the products that are best for them.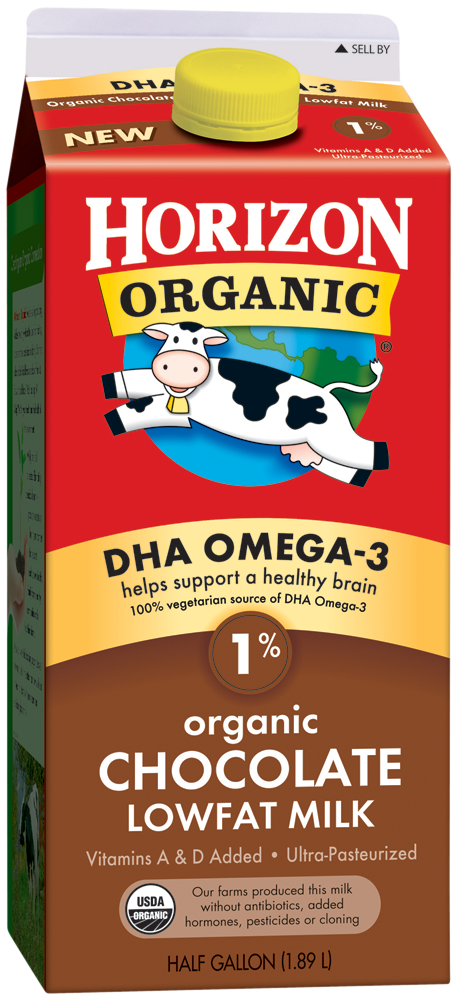 Horizon Organic
Milk has recently sent me a few coupons to try their
Lowfat Chocolate Milk
with DHA Omega-3, which is an important nutrient that helps support heart, brain and eye health . And of course the calcium in milk is important for growing bones!
The Importance of DHA
DHA belongs to a category of healthy fatty acids known as Omega-3's. Found in high concentrations in the tissues of the brain and eye, DHA Omega-3 is thought to help support healthy function in these areas. DHA has also been shown to help support heart health. DHA provides a nutritional boost for children's growing minds and bodies, as their brain nearly quadruples during those first five years of life. And even though DHA is a key structural component of the brain, many young children don't get their recommended daily amount of DHA as it is found in a limited number of food sources.

About Horizon Organic Chocolate Milk Plus DHA Omega-3:
Horizon Organic Chocolate Milk with DHA Omega-3 is fortified with a natural, 100 percent vegetarian and sustainable source of DHA – a safe, wholesome, delicious way to bring more of this important nutrient into your family's diet. And even though chocolate milk sounds like an indulgent treat, it actually provides the same nine essential nutrients as unflavored milk (calcium, potassium, phosphorous, protein, vitamins A, D, B12, Riboflavin and niacin), and can help kids meet their calcium requirements. In fact, it turns out flavored milk consumers do not have higher total fat or calorie intakes than non milk consumers! Plus, most kids love the taste of flavored milk.
You can see all the nutritional date here: Organic Horizon Chocolate Milk Ingredients
(2) Winners each receive 4 coupons
( 2 for a free half gallon & 2 for $1 off a half gallon)
Winners:
#3
cdziuba said...
March 3, 2010 2:48 PM
cdziuba@aol.com I learned that they sell a variety of products, one of which I want to try for my baking. The Heavy Whipping Cream. I have not seen it in my store yet, hope it comes, I need good quality cream for cheesecakes.
#81
Jennifer H said...
March 8, 2010 5:05 PM
new comment here: http://www.lifeinahouseofblue.com/2010/03/9-by-design.html?showComment=1268089476709
MANDATORY ENTRY:
(Please Leave A Valid Email Address)
EXTRA ENTRIES:
To receive these extra entries, you must do the
MANDATORY
entry.
Follow Us on Twitter & Tweet about the contest.
Add

Life In A House Of Blue

Button to your blog (See sidebar)
Add

Life In A House Of Blue

to your Blogroll
Follow My Blog- Google Friend Connect (See Footer)
Subscribe to

Life In A House Of Blue

via e-mail. (See sidebar)
Become a fan of

Life In A House Of Blue

on Facebook (See Footer)
UNLIMITED EXTRA ENTRIES:
To receive these extra entries, you must do the
MANDATORY
entry.
Tweet about the contest (be sure to leave the tweet link)
Leave a comment on another post besides this one ( leave link to comment )
If entries do not follow rules, they will be deleted !
One winner will be chosen !
I will be using a random number generator to select the winner.
Contest ends at 11:59pm CST on
3
/18/10
.
If the prize is not claimed in
48
hours a new winner will be chosen.

Contest open to U.S. residents only

.
The Life In A House Of Blue received 3 coupons for milk to sample.